Making plastic move
The circulation of plastic in Finland was enhanced when L&T opened the new Plasticbot line at the Merikarvia plastic recycling plant. Plastic is turned from waste into a raw material for Finnish industry.
LAHTI. Rows of plastic bottles speed along production lines near the ceiling of an enormous factory building. The Hartwall production plant has more than 40,000 bottles per hour passing through a single production line.
At this scale of production, waste is inevitable — even if Hartwall systematically tries to reduce it. Plastic film from the plant is sent out to be processed by L&T. It comes from the various packaging materials used for incoming raw materials in production.
The biggest source of recyclable plastic film are the bags that protect plastic bottle preforms. The preforms are delivered in lots of about 5,000 units in cardboard boxes, with plastic inside for added hygiene. Every half hour or so, a box of preforms is dumped into the production machinery, where they are moulded into plastic bottles in a blowing machine.
"The plastic film generates waste amounting to approximately 56 tonnes per year. Or maybe we shouldn't call it waste anymore. Instead, we can talk about materials and their recovery," says Packaging Development Specialist Sami Kangasaho.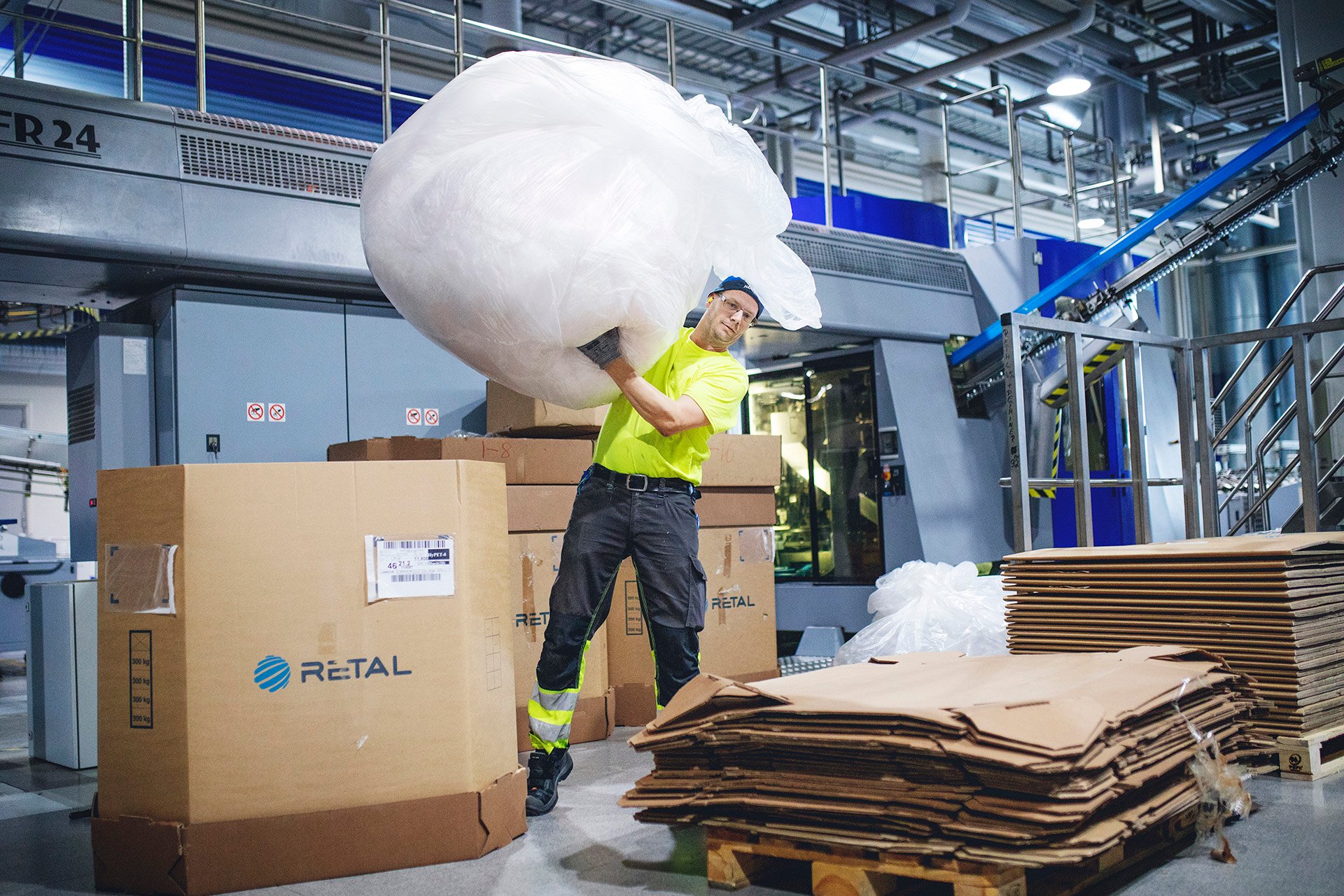 An essential material in the food industry
Hartwall aims to continuously reduce its consumption of materials and the amount of waste it generates. Significant progress has already been achieved with regard to plastic PET bottles, for example: the defect rate is only 0.2 per cent, which is a very low figure for the food industry.
"Only 0.02 per cent of our waste is disposed of in landfills. We have already raised our recovery rate to 99 per cent. For plastic, our recycling rate is a perfect 100 per cent," Kangasaho says.
Next to the production lines, as the boxes of preforms are emptied, the plastic film is packed in bags. When a bag is filled up, seasonal worker Marko Aalto throws it on top of a cardboard collection cart and takes the cart to the sorting centre downstairs. The plastic goes inside a compressor to squeeze it into a tight package. An L&T vehicle later picks up the plastic and takes it to the plastic processing plant in Merikarvia.
Plastic can be harmful if it ends up in the wrong place but, for Hartwall, it is an important packaging material.
"Plastic maintains the hygiene of our raw materials and finished products. It protects our products throughout the logistics chain and ensures that our customers receive high-quality products," Kangasaho explains.
"Plastic is a durable material that needs to be recycled. Plastic recycling is part of our sustainability and we are constantly working with our environmental coordinators to find new solutions that benefit the environment."
MERIKARVIA. The green Plasticbot is shiny and new. The new processing line at L&T's plastic processing plant doubles the plant's capacity, and the new washing line means that dirtier plastic film and commercial packaging can now be efficiently recycled.
"In the past, thousands of tonnes of dirty plastic were incinerated or exported from Finland for processing elsewhere. We are now able to provide the plastic industry with more domestic raw materials," says Production Manager Mikko Mäenpää from L&T.
The secondary raw material produced by the plant can reduce the consumption of oil for plastic production by as much as 400,000 barrels annually. The Merikarvia processing plant has five production lines running in five shifts around the clock.
In the new processing line, plastic — such as the plastic film picked up from the Hartwall plant — enters the washing line, where it is shredded, washed, tumbled and dried in a process consisting of several stages. The washing line is designed to be eco-friendly: the waters used in the closed cycle are purified and recycled. Water only needs to be added at a rate that replaces the water that evaporates during the process.
"We didn't just buy a washing machine, we also bought a system for treating the water used in the washing process," Mäenpää points out.
Skills reside in people
The plastic chaff then moves on to the granulation line. A conveyor belt takes it into a mill where the chaff is preheated by friction. The plastic then goes into an extruder, which is a type of oven, where it melts. The molten plastic mass is compressed into spaghetti-like string, which is then cut by a machine to create tiny granules called granulate.
The granulate is blown through pipes into silos. From there, it is shipped to customers in big bags weighing just over a thousand kilos, cardboard octabins or tanker trucks.
It sounds like a simple process and, in a way, it is. But when you consider that L&T produces more than a hundred different granulates made from different types of plastic and for different purposes, you realise that managing the process takes a lot of skill and knowledge.
"The need for professional skills is highlighted especially in the melting and granulation stages. Setting the temperature, for example, is something you can only learn through experience. Different qualities of plastic require different temperatures. You need to have people involved at all times, even though the process is highly automated," Mäenpää points out.
Asko Asunto is one of about 30 employees at the Merikarvia plant. He has some 20 years of experience in working with plastic.
"I'm quite familiar with the job but, from the employee's perspective, getting to work with new machinery is a good source of motivation. New machines always mean you have to learn something new and get training."
The new processing line at the Merikarvia plant is a big investment, but we can only get the full benefit from it by having skilled employees.
"We have good tools, but skills reside in people, not machines," Mikko Mäenpää says.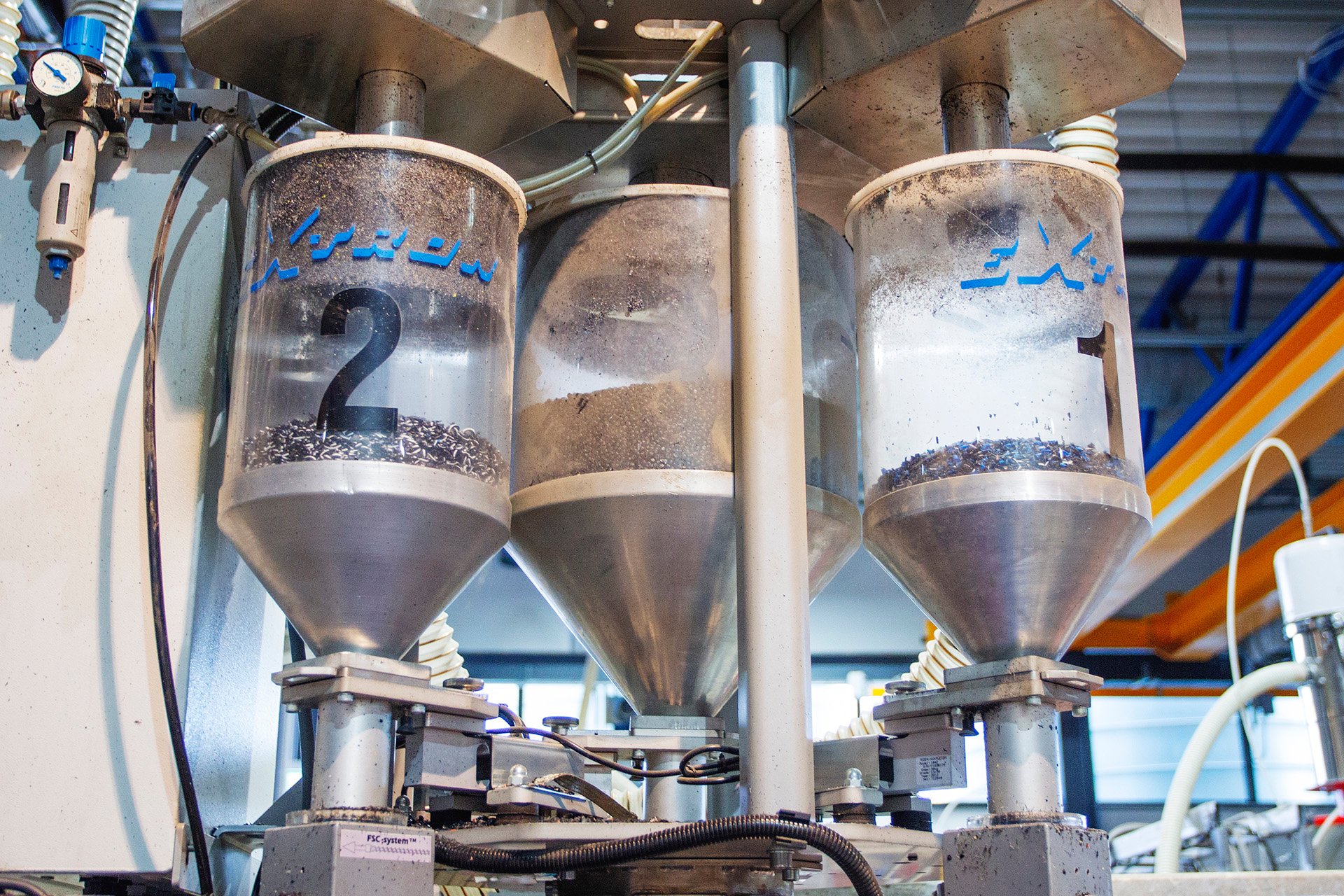 KUHMOINEN. Seven giant silos outside an industrial building contain 150 cubic metres of plastic granulate each. Ten production lines running in three shifts use the granulate as raw material to produce various kinds of plastic pipes at a volume corresponding to more than six million metres per year.
"We make everything from small tubes to large pipes. The diameter ranges from 20 to 900 millimetres," says Production Manager Osmo Torvinen from Meltex Oy.
Meltex produces pipes for the infrastructure and earthworks industries as well as HVAC and plumbing purposes. The products include water pipes, sewer pipes, drain pipes, stormwater pipes and chambers.
The raw material is weighed using a gravimeter at the start of the production line. The raw material then enters an extruder that melts them into a mass that is moved on to the calibration machine. It is a type of mould that shapes the mass into a pipe of the desired size. The pipe then goes through a cooling pool that is tens of metres in length. The pipe that comes out of the other end is about as warm as the human hand. The pipe is cut down to the right lengths and plugged at the ends. The product is now ready to be shipped out.
Meltex does not generate any plastic waste.
"We do generate some rejected material when we start and finish a production batch, but we don't see it as waste. We see it as good raw material. Everything is recycled and reused," Torvinen explains.
L&T picks up rejected material from Meltex once a week, takes it to Merikarvia for granulation and then returns it to Kuhmoinen.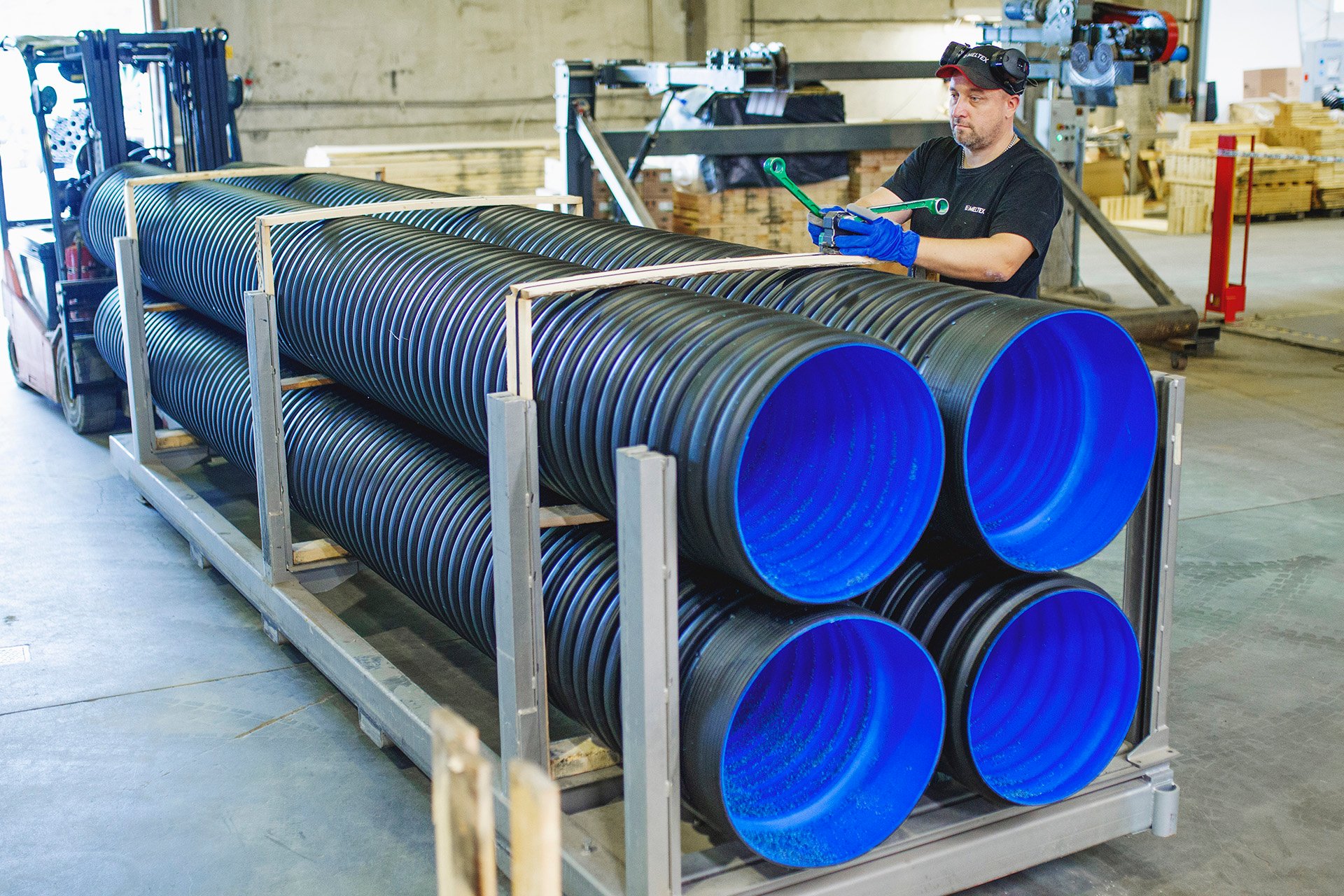 Recycled plastic is as good as new
Meltex uses 30–40% per cent of recycled plastic mixed in with virgin raw material in suitable products.
"Recycled plastic works in our production processes just as well as virgin plastic," Torvinen says.
Meltex and L&T have been working together for more than 20 years already.
"I joined this industry in 1997, and I can only characterise the co-operation as flexible and effective during that entire time. L&T picks up pipe material for breaking and delivers new granulate back to us. Sometimes, we transport material to Merikarvia directly using our vehicles."
It is difficult to determine whether recycled plastic, including the cost of transport and processing, is ultimately slightly cheaper or slightly more expensive than virgin raw material, but cost isn't the only metric these decisions should be judged by.
"There are other values to consider beyond money. It makes sense to recycle everything that can be recycled. Plastic can be used over and over again. It would be foolish to throw it away."
Hartwall
Hartwall's products include water, soft drinks, specialty beverages, beer, cider and long drink products.

The company has approximately 700 employees in total.

The production plant in Lahti was opened in 2003 and employs approximately 400 people.
L&T's Merikarvia processing plant
L&T's plastic refining plant has been granulating plastic since 1998. The roots of the processing plant can be traced back to the 1980s, when it operated under the name Muoviportti. The company was merged with Lassila & Tikanoja in 2011.
Produces more than a hundred different granulates. Various kinds of plastic are used as raw material. As a rule, the granulates are used in production activities that are similar to the operations the recycled plastic was previously used in. For example, the granulate made from Hartwall's plastic film cannot be used in pipe production by Meltex.
MELTEX
A private corporation that is part of the Etola Group.

6 chamber factories, 3 pipe factories and 9 shops in Finland.

Net sales approximately EUR 83 million (2018), 250 employees.