A textbook example of the circular economy at Meira
Much of Meira's coffee is roasted using biogas produced from waste generated by the company's own operations. Nothing is wasted, and putting the idea into action only took a little bit of novel thinking.
Helsinki's Vallila district is characterised by the grinding of trams and the heady aroma of roasted coffee. The latter comes from the Meira roastery located in a beautiful 85-year-old industrial building that still stands in the hectic capital.
Hundreds of tonnes of green coffee sit on pallets in Meira's warehouse. Forklifts carry burlap bags weighing 70 kilos to a conveyor belt. Once the green coffee beans have been cleaned, weighed and mixed, they are roasted for a few minutes. The hot-air roaster reaches temperatures that can even exceed 500 °C. The final temperature of the roasted bean is just over 200 °C.
Meira produces nearly 13 million kilos of coffee annually. Of this total, about one million kilos is roasted using energy that originates from the production facility itself: coffee waste generated as a side stream in production is processed into biogas, which is then used as a source of the heat required for roasting.
"The project started when we were thinking about ways to recover different waste streams. We realised that we should make use of coffee waste in biogas production," says Environmental Manager Olli "Opa" Erjama from L&T.
"In the past, coffee waste ended up being incinerated, but we have now given it a new lease of life. The process of anaerobic digestion turns coffee waste into biogas and nutrient residue, which can be used to fertilise fields, for example," adds Oskari Raitanen, Energy Efficiency Expert at L&T.
A perfect example of the circular economy
Coffee waste consists of broken beans, coffee dust and the coffee bean husks that come off during the roasting process. For Meira, the total quantity of these side streams is about 160 tonnes per year. They are processed into biogas at the Labio plant in Lahti, and Meira buys the gas from the distribution company Suomen Kaasuenergia.
The Vallila roastery has created a textbook example of the circular economy at its finest. Meira has been very satisfied with the project.
"One sign of how successful this project has been is that we started planning it in August and we are now in the implementation phase. Of course, there are costs involved in these early stages but, overall, this is a great fit with our strategy. This is a concrete example of a good deed," says Marleena Bask, Director of Strategy and Insight at Meira.
Recycling coffee waste reduces Meira's CO2 emissions by about 77 tonnes per year and increases the recycling rate by 21 percentage points. Bask hopes that Meira's example will inspire other companies.
"No-one can save this planet by themselves. We all need to roll up our sleeves and do it together. Everyone has to work towards mitigating climate change."
As with any company, sustainability is essential for Meira's success.
"Customers have high expectations. That's a good thing. The Finnish business sector is very progressive when it comes to sustainability. At the same time, sustainability is becoming an increasingly important criterion in consumers' buying decisions. Our vision is 'Working fairly for better moments' and it is something that drives all of us."
Sorting at the source is vital
L&T's specialists work together very closely at Meira. Erjama is in charge of the development of waste management, while Raitanen is responsible for emission calculations, planning and reporting. Everything they do is geared towards supporting Meira's key objectives: saving energy, reducing emissions and making use of renewable energy sources.
Recycling coffee waste is one concrete step towards these goals. It has required novel thinking and learning from everyone involved.
"Sorting at the source and the ease of collection are essential for success. With this in mind, we have carefully thought about the locations of the receptacles on the different floors of the facility and added new receptacles as necessary," Erjama explains.
The old seven-storey building with its labyrinthine layout has presented a challenge to waste management. A lot of work has been done at the various departments in co-operation with the management and employees. This has required walking around, listening to people and solving problems.
"The employees have been really engaged in the process. They have given us suggestions on how things should be done, and we have found the tools to make it happen. Getting ideas from the employees produces the best results," Erjama adds.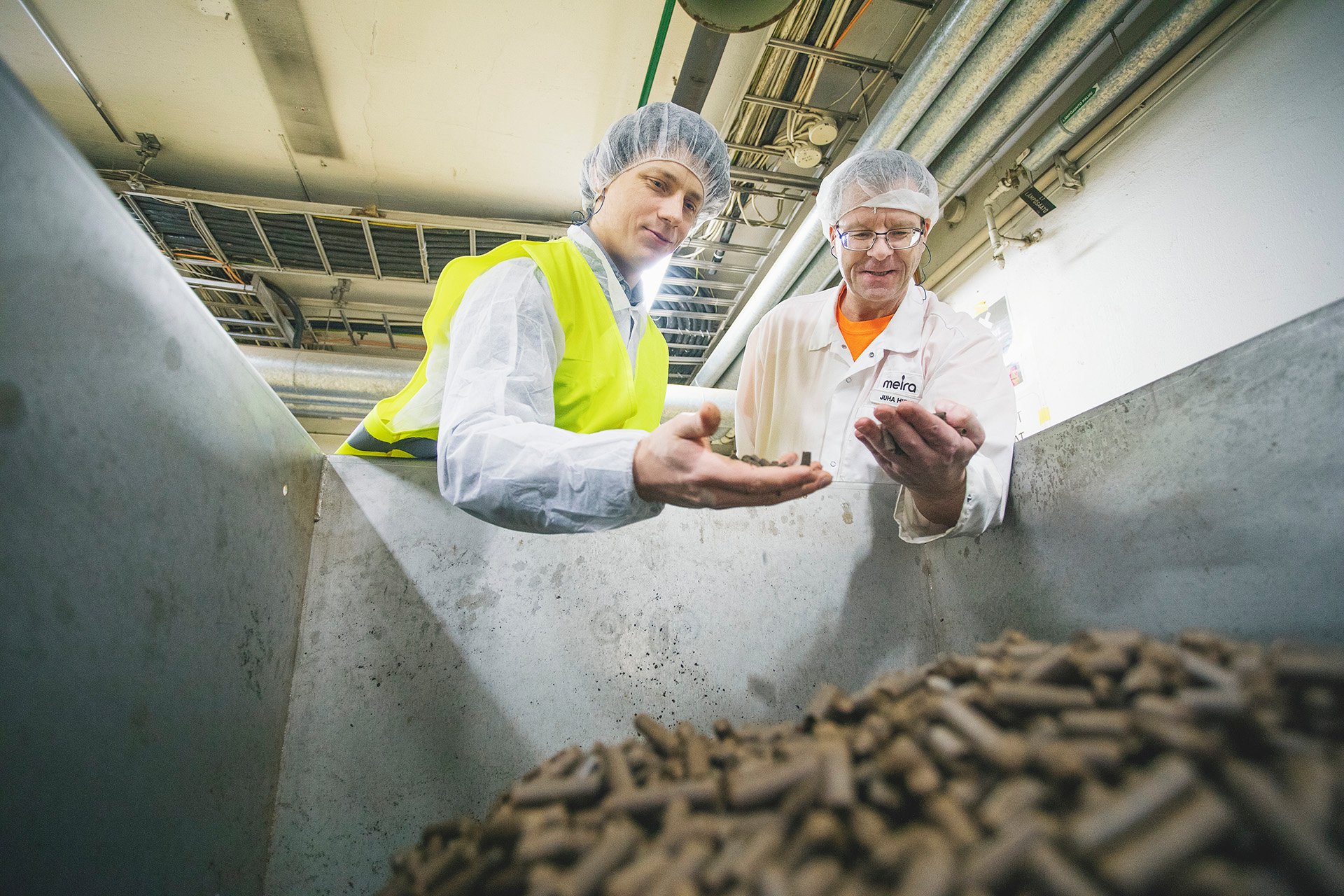 Guidance in production is key
The collaboration between Marleena Bask and L&T's Erjama and Raitanen appears to be not only effective but also a lot of fun: they talk over each other, crack jokes and laugh a lot. The unreserved atmosphere and close-knit team has made success possible.
"It's really important that Opa and Oskari spend time on the production floor instead of just delivering training sessions in meeting rooms. The production floor is where change happens. Everyone wants to be part of doing something good," Bask says.
"People are motivated by being shown the big picture and engaging them in putting it into action," Erjama and Raitanen add.
"The fact that we have such a great team makes it so much more fun," Bask says with a smile.
"Our strength is a strong determination that starts from the production floor. At the same time, Opa and Oskari have been very independent in understanding what we at the top want to achieve."
Raising the bar of emission targets
The bottom floor of Meira's roastery is where the nerve centre of L&T's waste management is located. The loading dock has sorting stations for all waste fractions. In the adjacent waste room, dark brown pellets as thick as a pencil flow into a receptacle at a steady rate. This is coffee waste that comes from the roastery through a compactor. Its journey will eventually take it to the biogas plant.
Maintenance Supervisor Juha Hirki examines the stream of pellets with Erjama and Raitanen. Hirki has been with the company for 30 years.
"It's long enough to have learned a thing or two about roasting coffee. Maybe after 50 years I'll be able to say I know how it's done," Hirki says, describing the intricate nature of coffee roasting.
The collection of coffee waste has become well ingrained in the roastery's working methods and long traditions.
"Everyone has been happy that we have found a way to make use of our waste," Hirki says.
Both L&T and Meira have set their sights even higher. Achieving a target does not mean you are done.
"Then we come up with new ideas and raise the bar higher. For both sides. After a while, we find out that we can do it," Raitanen says.
Meira wants to keep improving. All kinds of waste, from plastic and the laminates used in coffee packaging to burlap bags, is recycled efficiently. The company has set an ambitious emission target of halving its greenhouse gas emissions by the end of 2022, using 2018 as the baseline.
"We need to keep working towards even more ambitious targets. Ultimately, reducing emissions is the most important thing. I'd like to write a 'Vision 2030' for us," Bask concludes.
INFO
Meira Oy
Founded in 1914.
Net sales EUR 84.3 million (2018). 180 employees.
Part of the Italy-based Massimo Zanetti Beverage Group.
Kulta Katriina, Saludo and Segafredo are the company's best-known coffee brands. In addition to coffee, the product range includes spices, baking products, almonds, nuts, mustard and ketchup.
L&T is responsible for Meira's environmental services, technical property maintenance, cleaning, on-call property maintenance services and reception services.